Solutions to Problems

Solutions to problems from Microsoft? Isn't that like getting medical treatment from the goon that just shattered you knee cap? Or is it just like getting your virus and spyware protection from the same people who brought you all those vulnerabilities to attack?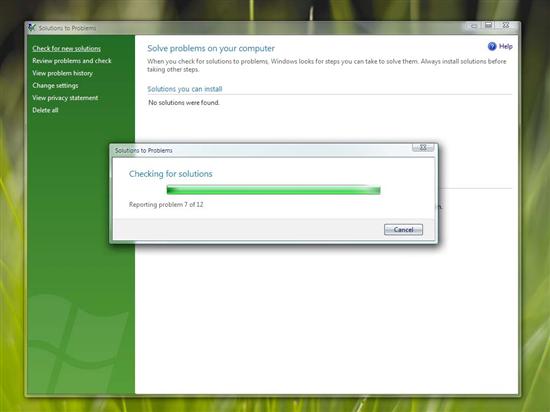 Cecking for solutions to problems ...



By this point everyone should be aware of those annoying boxes that pop-up after a program dies in Windows XP. They claim that they will send information to Microsoft to help improve the situation. And there is no way to permanently opt-out. Well

Solutions to Problems

is the next step. Rather than just sending in information, it has the ability to connect to Microsoft servers and look for a solution to the problem. Great concept perhaps, but I'm not holding my breath.



The scary thing though is that people will expect Microsoft to fix their problems (though that is a sad comment on our society). The even scarier thing is the current privacy policy for the error reporting application.  Please take a gander at this list of types of data.  You'll note the they reserve the right to collect COPIES OF ACTUAL FILES such as, but not limited to, networking reports, application files and your documents!  I don't know about you, but I don't even trust Google (the people that brought us "Don't be evil") that much. Microsoft even retains the right to ship what they lift off you system to third parties who may send that data to sub-vendors and partners!  Fantastic.


Windows Parental Controls

Isn't it about time that the kids can keep their parents from messing with all those great mature rated games they've installed? I think it is and so does Microsoft. As you can see in the picture below, users in the limited category can have their access to games blocked. The parental control is the most elaborate I've yet seen. Games can be blocked entirely, by rating, by content, or put on a black list.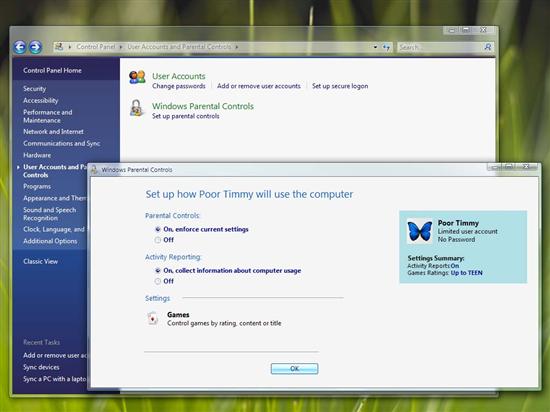 Parental Control



Should prove a boon to all those overly protective/controlling types who feel children shouldn't have any responsibility until they are 25. Wait, that's a rant for another time and place, let's just say I had relaxed parents and will forever be thankful for that.